As of August 18, 2023, 100 Inc. (Headquartered in Setagaya-ku, Tokyo, CEO Kei Tamura) becomes the first Elite Partner in Asia and Japan within the Solutions Partner Program of HubSpot Inc., a cloud-based Customer Relationship Management (CRM) platform provider based in Massachusetts, USA, with CEO Yamini Rangan.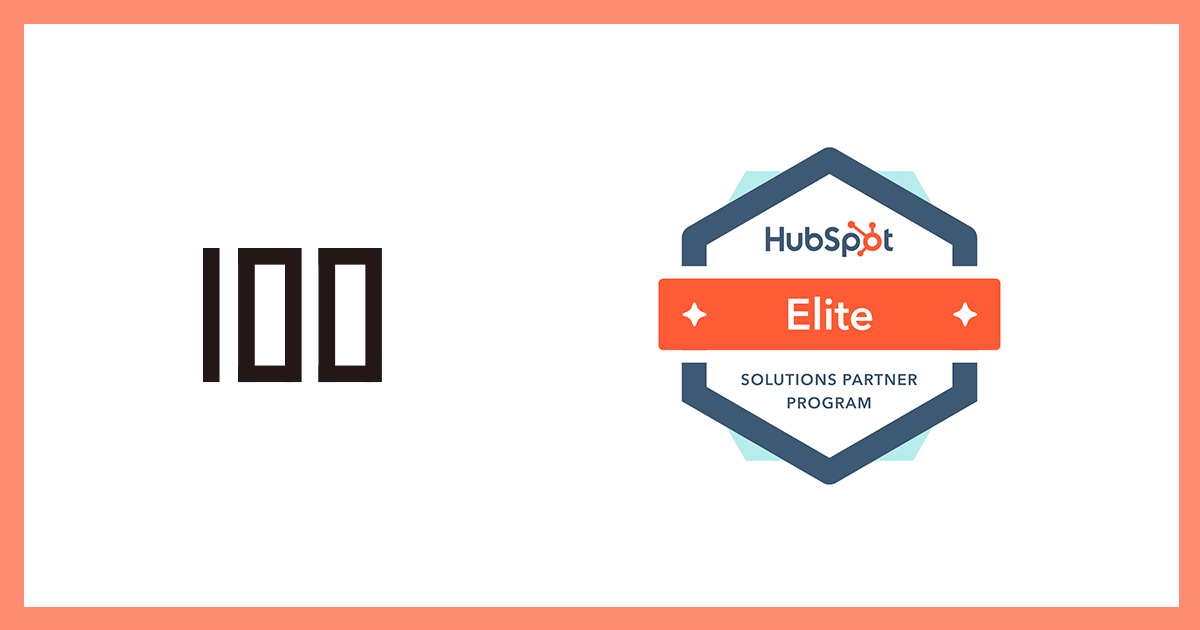 At this point, only a few companies (less than 1% out of approximately over 5,600 companies* affiliated with HubSpot's Solutions Partner program) have been certified as Elite Partners.
* Total views of companies badged as Solution Partners and Solution Providers
The ranking within HubSpot's Solutions Partner program is determined not just by sales performance points, but also by factors such as monthly recurring revenue, customer retention rate, and customers' software usage. Moreover, to achieve Elite Partner status, companies must meet the following criteria:
Maintain a customer retention rate of 85% or higher.
Achieve a revenue continuation rate (C$R) of 85% or higher.
Have over 100 HubSpot Academy certifications across the team
Comments from CEO, Kei Tamura
We are proud to have met the strict criteria for being certified as HubSpot Elite Partner, which only 1% of all the companies participating in the HubSpot Solutions Partner program have achieved. Firstly, we would like to express our gratitude to our clients who have entrusted us with their business needs.

I also want to thank our dedicated staff who are passionate about HubSpot, constantly striving to enhance their services, continuing to endeavor to contribute to the businesses of our customers. Moving forward, we will continue to foster our love, knowledge, and experience with HubSpot and work diligently to contribute to our customers' business growth.
Comment from Mr. Hirotada Hirota, Country Manager of HubSpot Japan
I am thrilled to convey my heartfelt congratulations on the recent recognition bestowed upon 100 Inc. as a HubSpot Elite Partner. This achievement fills us with immense joy, as it marks a significant milestone in our collaboration.

Being designated as an Elite Partner places 100, inc. at the pinnacle of the HubSpot Solutions Partner ecosystem, and it is with great pride that we announce this Elite Tier accreditation, a first among Japanese partners. In the realm of HubSpot's operations, Solutions Partners play a pivotal role in addressing the diverse challenges our customers face, providing crucial support for their growth journey.

100 Inc. has exhibited unparalleled expertise in catering to various facets of our clients' needs. From assisting with HubSpot implementation, web development, marketing support, sales organization enhancement, data integration between external systems and HubSpot, to application development - they have consistently excelled. Their proficiency in extending assistance from multiple angles truly sets them apart.

We eagerly look forward to continuing our partnership with 100, inc. as an Elite Partner. The collective commitment to serving our Japanese customers and ensuring their success remains at the forefront of our endeavors.
HubSpot-Related Qualifications, Certifications, and Awards.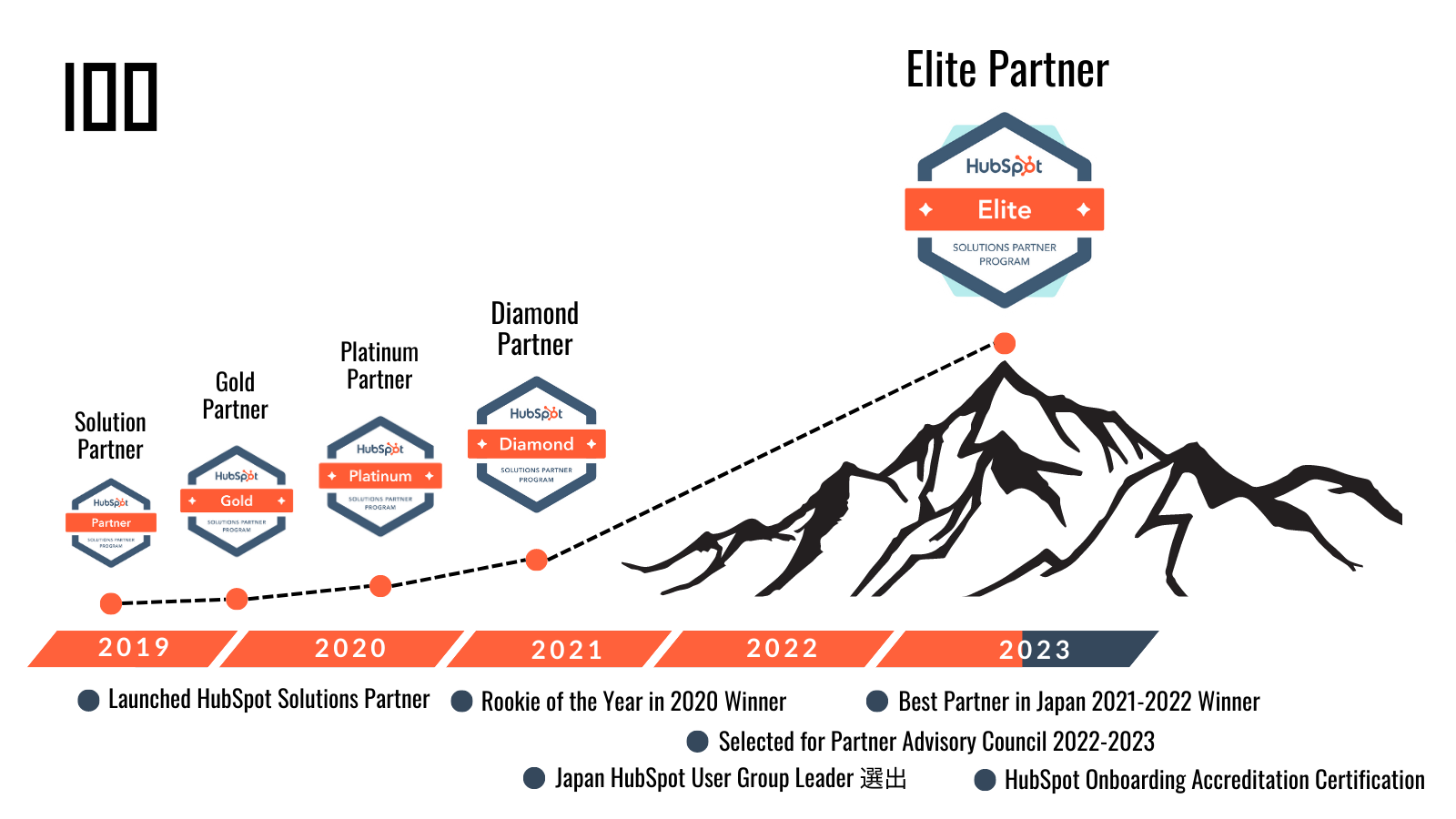 Joined HubSpot Solutions Partner Program |June 2019
Certified as HubSpot Sliver Partner |September 2019
Certified as HubSpot Gold Partner|December 2019
Certified as HubSpot Platinum Partner|August 2020
Certified as HubSpot Diamond Partner|January 2021
Rookie of the Year in 2020 Winner|February 2021
Selected the Japan HubSpot User Group Leader|August 2021
Best Partner in Japan 2021 Winner|January 2022

Selected Partner Advisory Council 2022|April 2022

Best Partner in Japan 2022 Aword|January 2023
Selected a

Partner Advisory Council 2023|May 2023

Certified as HubSpot Onboarding Accreditation|July 2023
Certified as HubSpot Elite Partner|August 2023

HubSpot Academy Certification Status (As of August 2023)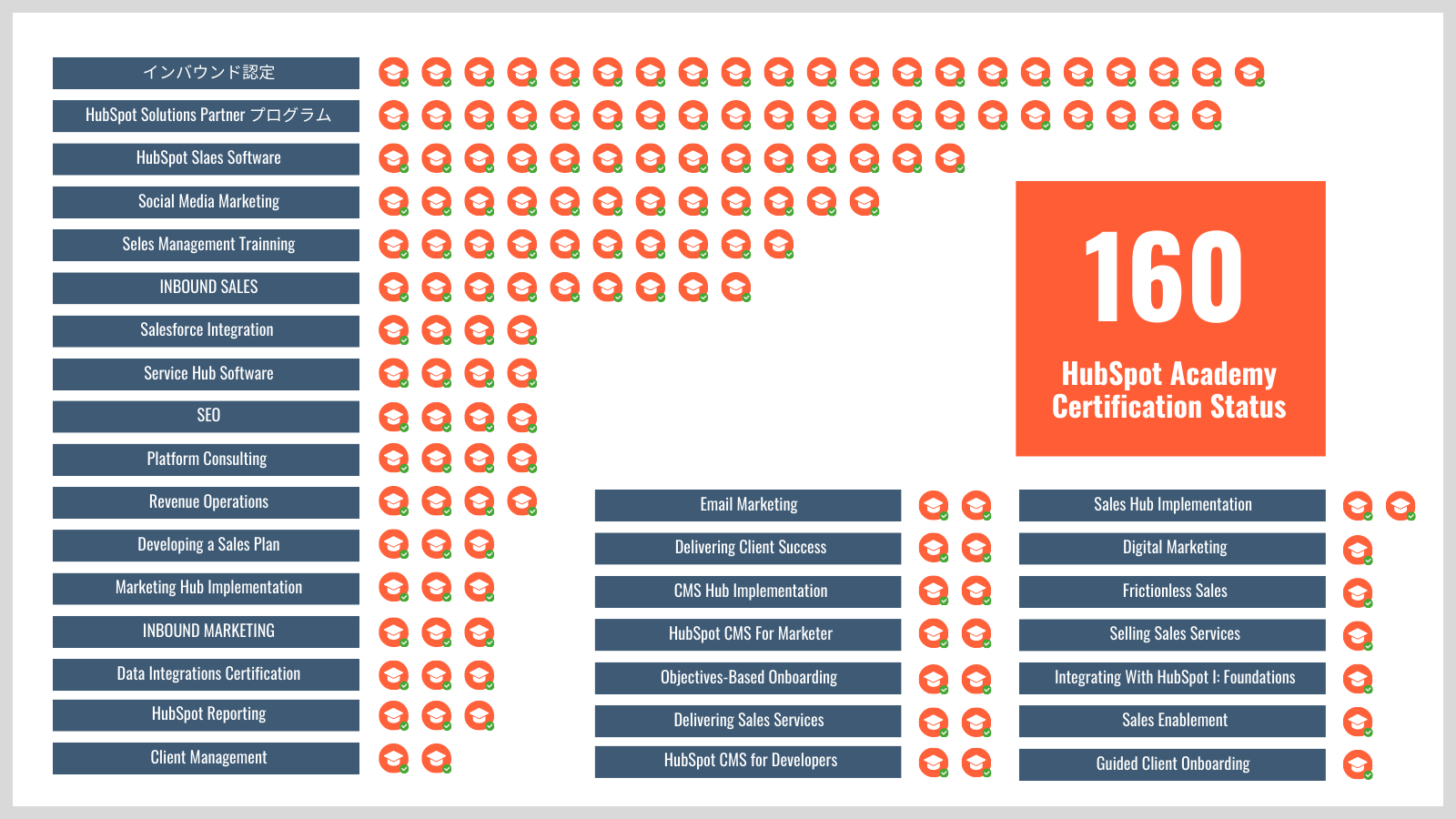 Every employee of our company, regardless of their role, is encouraged to engage in learning through the HubSpot Academy. This includes a variety of courses in both Japanese and English, allowing our team to continually to both achieve new and renew previously sought certifications. As of now, we have members who hold a total of 160 certifications, far surpassing the HubSpot Elite Partner certification requirement of "over 100 HubSpot Academy certifications across the team."

Simultaneously, we have consolidated our HubSpot operational experiences and expertise into a single guidebook titled "HubSpot Encyclopedia," which serves as a practical resource. We hope that this book will be a help for all the HubSpot users.
https://100.inc/hubspot-book (Japanese only)
About Our services
Since June 2019, 100 has been a certified partner of HubSpot, providing a range of services including sales and implementation support for HubSpot's software, building RevOps organizations across the departments such as marketing, sales, and customer service using HubSpot CRM to drive digital transformation, strategizing and implementing inbound marketing, website development with HubSpot CMS Hub, content creation, and providing support services for HubSpot partner businesses.
RevOps Consulting
We conduct a comprehensive analysis of customer data across marketing, sales, CS and management accounting domains. This helps in predicting leads with high conversion rates and pinpointing effective processes and approaches for each organization.


HubSpot Implementation Support
Tailored to your business challenges, we offer extensive support in implementing HubSpot CRM, ensuring that it's effectively utilized within your organizational structure.


Support for Sales, Marketing, and CS Operations
We support the implementation of SFA tools to advance sales activities, build sales structures, and create sales content. For marketing, we propose strategies that enable our customers to convey essential and compelling information to their customers at optimal moments. We also broadly support content creation, advertising, ABM, webinars, etc. Our services also encompass constructing helpdesks, conducting customer surveys, building FAQ sites, and other measures to cater to our customer needs, ensuring their customers remain loyal to their products or services.


Website Development
We develop websites with HubSpot CMS hub, ensuring the websites can fully leverage the capabilities of Marketing, Sales and Service Hub. We cater to all website-related needs, from corporate site renewals and owned media development to SEO strategies.


Data Integration/System Development
We develop systems that can integrate with various data sources, including Salesforce, LINE, Zoom, and accounting systems.


HubSpot Extension Services (Growth Apps)
We develop original features that are not part of HubSpot's standard functionality but are essential for marketing and sales activities. This includes integration with company databases and tools for optimizing forms, such as automatic address entry from postal codes. Learn more


HubSpot Admin / 100 Assistant
HubSpot professionals offers operational support as part of a fixed-rate outsourcing (BPO) service. We provide HubSpot data input, data management, design creation, and marketing operations for a monthly flat fee.
Learn more
Regardless of the size of the client, whether a startup or a company listed on the Tokyo Stock Exchange, 100 has served as a "HubSpot Expert," offering essential services to leverage HubSpot effectively.
Looking ahead, we will continue to maximize the use of HubSpot to address marketing and sales challenges, and strive to provide services that contribute to the success of our clients' businesses.
■About HubSpot Japan
HubSpot is a leading customer relationship management (CRM) platform that provides software and support to help companies grow better. The platform includes marketing, sales, service, operations, and website management products that start for free and can be scaled to accommodate customers' needs at any stage of their business growth. Today, over 184,000 customers across more than 120 countries use HubSpot's powerful and easy-to-use tools and integrations to attract, engage, and delight their customers.
Learn more at www.hubspot.com.
■About 100 Inc.

100 Inc. leads business growth for a wide range of companies from SMBs to enterprises by leveraging HubSpot. With expertise across all five Hubs of HubSpot – Marketing Hub, Sales Hub, Service Hub, Operations Hub, and CMS Hub – 100 offers services such as strategizing overall marketing and sales strategies, data integration and migration between Salesforce and HubSpot, development of custom HubSpot integration applications, web development, and more.
Founded in 2018, we began operating as a team of HubSpot experts and specialists from June 2019. In 2020, we were honored to be the sole recipient of the 'Rookie of the Year (APAC)' award among Japanese HubSpot partners. In both 2021 and 2022, we have achieved consecutive wins of the 'HubSpot Best Partner in Japan' award as the top HubSpot partner in Japan. In the 'ITreview Grid Award 2023 Summer', we were recognized as a 'Leader' in five categories as a HubSpot implementation partner. In July 2023, we have become the first in Japan to obtain the HubSpot Onboarding Accreditation, followed by our August recognition as the highest-tier 'HubSpot Elite Partner'. We also manage the operations of Japan HUG, the national HubSpot User Group.
【Press Contact】
100 Inc, PR
Reiko Wakamoto